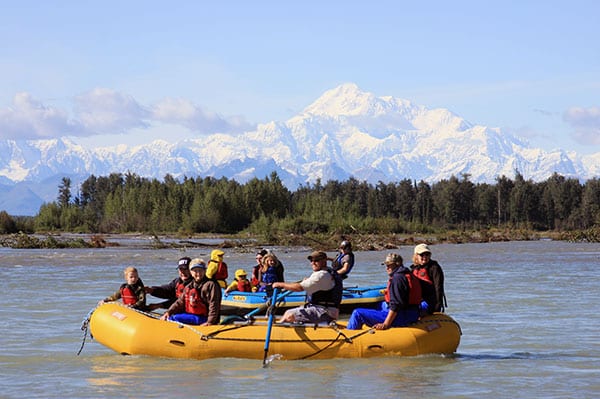 Raft Tours
Denali Southside River Guides offers fully-guided raft tours in Denali State Park for those who want to explore Alaska's rivers and backcountry. Scenic wildlife viewing floats are available, and all gear is provided. Each of our trips make every moment of Alaska's long summer days memorable. We strive to provide flexibility in trip departure times whenever possible, in order to accommodate the needs of travelers. Please call us to arrange a time that works for you.
Denali Kayak & Raft Trip – Full Day Excursion
Come see the beauty of Denali State Park by exploring its water ways and seeing its wildlife on this full day excursion! Raft tours begin on Byers Lake, the largest lake in Denali State Park where you will glide through its tranquil waters on single or tandem sit-on-top kayaks. Watch for resident trumpeter swans, loons, and beavers. Paddle over pools of spawning salmon, and look for the bears and eagles that come to feed on them.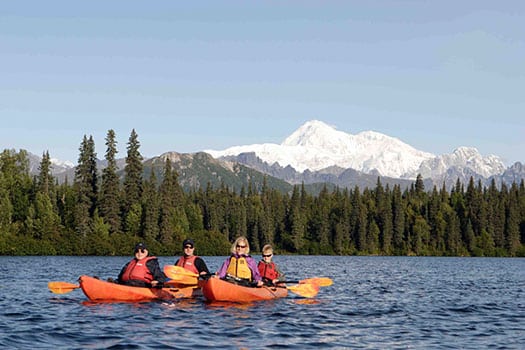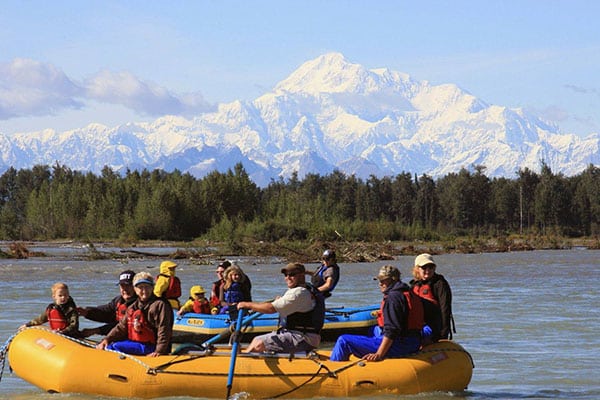 After your paddle, we will enjoy a warm lunch at a the historic Mary Cary's McKinley View Lodge and then head to the river to embark on a scenic rafting float trip fully oared by your guide. Enjoy stunning vistas of Denali and the Alaska Range, and beautiful canyon walls. This trip provides wonderful wildlife viewing opportunities as you make your way downstream to the quaint village of Talkeetna where your trip concludes.
Click here for more details about Kayak Tours portion of your trip.
Trip Details
Denali Kayak & Raft Day Excursion
Minimum of 4 people (for smaller groups, please call for availability)
Trip duration: 8-9 hours
Service fee: $199.00 per adult
Children under 12: $179.00
Full day excursions depart daily from: Talkeetna, 8:00 am; or Denali State Park/McKinley Princess Lodge, 9:00 am
Mountain vistas, wildlife sightings.
Chulitna River Half Day Float
This peaceful scenic float takes you through the stunning Chulitna Canyon and ends 19 miles downstream in the village of Talkeetna. You will experience stunning vistas of Denali and the Alaska Range, as well as the Talkeetna Mountains. You will have opportunities to view spawning salmon, grizzly bears, black bears, eagles, and other wildlife as your guide leads you through the history and mystique of the area.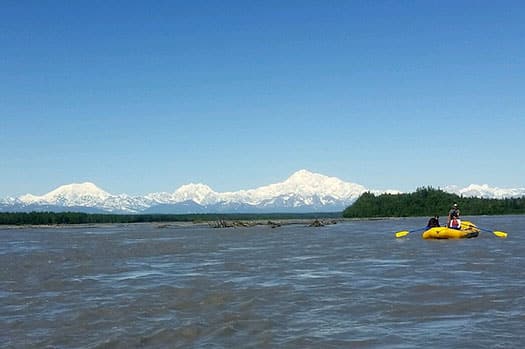 Trip Details
Chulitna River Half Day Tour
Minimum of 4 people.
Price: $119.00 per person
Children under 12: $99.00
The Chulitna River Half Day Float departs daily from Mt. McKinley Princess Lodge at 12:30 pm
Call 907-733-7238 for information about shuttle service from Talkeetna.
Float an untamed, glacial-fed Alaska river!