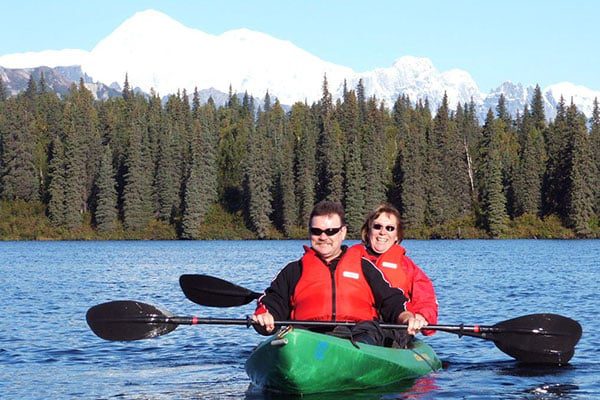 Land and Water Tours
Denali Southside River Guides has partnered with Alaska Nature Guides for many years to bring a combination of exciting land and water tours which blend a Nature Walk & Kayak experience.
We like to call these our Surf & Turf tours. These tours are a perfect mix for any traveler. The South Denali Kayak and Nature Walk mixes an easy stroll along the shoreline of Byers Lake with a kayak trip that is perfect for beginners or experienced paddlers.
South Denali Kayak and Nature Walk
Step into a natural Alaskan paradise…Travelers of any age will love this trip.
Start with an easy stroll along the Byers Lake shoreline with a guide that knows this place intimately and will help you to get the most out of your experience. Along the two mile walk you will enjoy magnificent views of Byers Lake and learn about the area's animal and plant life. Explore a log cabin that once belonged to a pioneering couple. Hear about how the adventuresome family survived the long winters in this beautiful setting. The pace is comfortable with frequent stops and photo opportunities.
You will then gear up and get out on the pristine water of Byers Lake. Start your tour with brief and easy paddle instructions then embark for one of the most beautiful experiences in Alaska. As you glide through tranquil waters on single or tandem sit-on-top kayaks, watch for resident trumpeter swans, loons and beavers. You will paddle over pools of spawning salmon (July -Sept) and look for the bears and eagles that come to feed on them. Take pictures of the breathtaking views of majestic Denali and the Alaska Mountain Range.
This tour is great for families and large groups. The kayaks are perfect for beginners or experienced paddlers; very stable and easy to maneuver.
Trip Details
This is a custom trip. Please call about availability and pricing.
Includes: Lunch, shuttle service.
Note: We will provide you with rain pants and jackets, boots or croc and dry bags for cameras. Guest should dress in layers as Alaska weather can vary greatly even over the course of one day. It may be warm and sunny or cool and rainy. We want all guests to be comfortable and prepared. We do not cancel for rain.