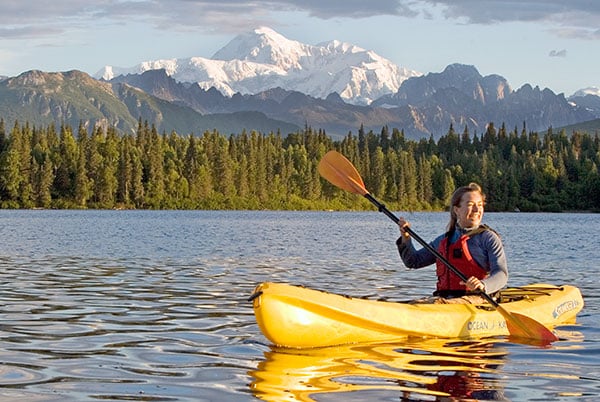 Kayak Tours
The Southside of Denali is renowned for its incredible views, abundant wildlife, and rich history!
Kayaking the pristine waters in Talkeetna and Denali State Park is the perfect way to immerse yourself in the Alaskan wilderness and enjoy your time on the south side. Our kayaking tours are offered on Byers Lake in the heart of Denali State Park and X Lake in Talkeetna Lakes Park.
Denali Southside Guides will guide you into this territory and show you all it offers. We are dedicated to preserving this area and have a philosophy of Leave Only Footprints Behind.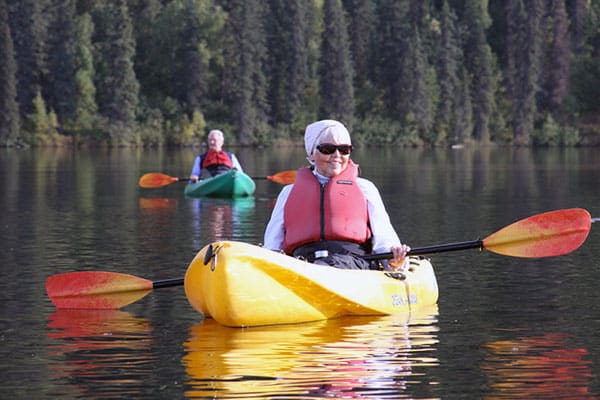 Come see the beauty of Byers Lake as you glide through tranquil waters on single or tandem sit-on-top kayaks. Start your tour with brief and easy paddle instructions then embark for one of the most beautiful experiences in Alaska.
Watch for resident trumpeter swans, loons and beavers. Paddle over pools of spawning salmon. Look for the bears and eagles that come to feed on them. Take pictures of the breathtaking views of Denali and the Alaska Mountain Range. Don't worry about your gear — we will provide you with rain pants and jackets, boots or crocs, and dry bags for cameras. These kayak tours are great for beginners or experienced paddlers with boats that are very stable and easy to maneuver.
Trip Details
Trip duration: Plan for 2 1/2 to 3 hours total for your adventure. Time on the water is 1.5 to 2 hours with extra time for transportation, gear up and down.
Service fee: $99.00 per adult
Children under 12: $69 per child

Kayak tours depart daily from

Byers Lake Day Use Area at 9:15 am, 12:45 pm.
McKinley Princess Lodge at 9:00 am, 12:30 pm.

 
Talkeetna Lakes Kayak Tour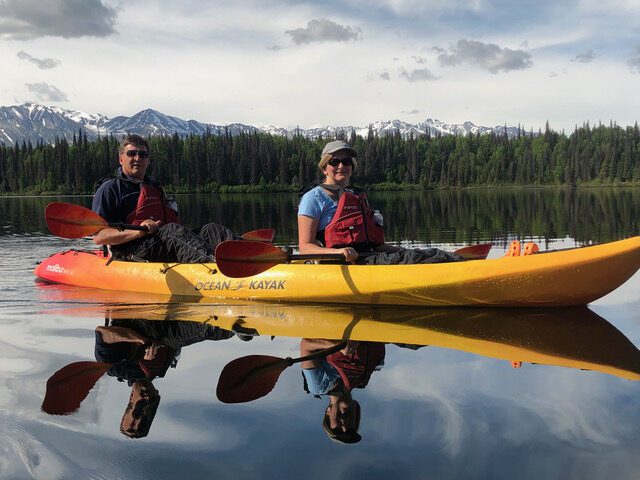 Talkeetna offers a ton of fun opportunities, and this is one not to miss. Though just a mile and a half from town, the beautiful Talkeetna Lakes Park is a taste of true Alaskan wilderness. Perfect for those on a tight schedule, this two-hour kayak tour winds among islands, with views of Denali and the Alaska range, on clear days. With deep woods surrounding the lakes, wildlife is abundant, such as otters, beavers, fox, moose, and more than 100 species of birds, including raptors and loons.
Our experienced guides will gear you up, provide basic instruction on use of boats and paddling strokes, and share their expert knowledge of the area as you enjoy this kayak adventure. The hour and a half we usually spend on the water is a real chance to experience the peacefulness of the Alaskan wilderness.
Trip Details
Trip duration: Plan for 2 hours for your adventure. Time on the water is approximately 1.5 hours, with extra time for gearing up and down.
Service fee: $89.00 per adult.
Children under 12: $69 per child.
Departs from Talkeetna Lakes Park Day Use Area at 9:00 AM.
Pick-up may be available from area lodging. Please call for this request.
Little adventures — big memories!