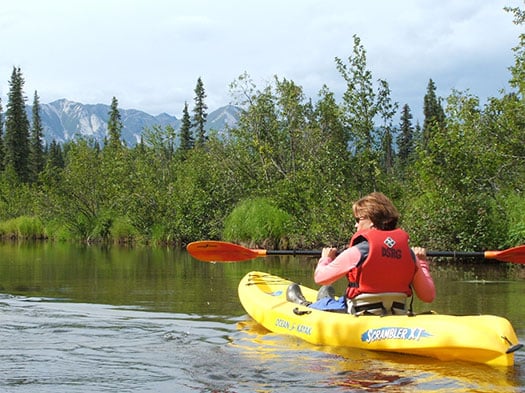 Kayak and Canoe Rentals
For the more adventurous, explore Byers Lake and Talkeetna Lakes Park on your own. Whether you come for amazing photography, bird watching, salmon spawning, or just want to get out and be active in nature we offer a variety of boats to fit your experience. These lakes are gems you don't want to miss. Step off the shore and explore the crystal clear lake and pristine environment at your own pace with kayak, canoe, or paddleboard rentals that match your style.
Available Equipment
Kayaking, canoeing, and paddle boarding are fun activities, but you need to make sure you rent the right equipment. Below are details about the high-quality canoe and kayak rental options we offer.
Rental Details
Good to Know Before You Go
Our rental desk is open from 9:30 AM to 5:00 PM 7 days a week.
All rentals are dispatched on a first come, first serve basis. No reservations.
You can rent by the hour, day or overnight. Discounts are available for multi-day rentals and we offer special rate from 5:00 PM to 10:00 AM.
On holiday weekends we do run out of boats so to ensure availability we encourage you to come early.
Call 907-733-7238 for pricing.
Single or Tandem Kayak Rental
If you're looking for speed and maneuverability, a kayak rental is a great choice. Our kayaks are Ocean Kayak, sit-on-top style kayaks, one of the safest and most comfortable kayaks on the water. One person can paddle tandem kayaks, or you can bring two people and place a small child in the middle.
Canoe Rental
If you prefer canoeing, we offer Old Town canoes (Guide 147). The canoes have two comfortable seats and a spacious middle section for additional passengers. It's one of the easiest canoes to paddle, thanks to its streamlined shape and sharp ends. For more stability with kids or pets, we can add a stabilizer with floats to prevent tipping for an additional fee.
Paddle Board Rental
We have inflatable and rigid paddle boards.
Our rigid paddle board is Ocean Kayak Nalu 12.5, one of the best on the market. It has incredible stability, making it easy for beginners to learn how to paddleboard for the first time. The pads in the middle make standing and kneeling comfortable ‒ important when you're out on the water for hours at a time! Whether you prefer standing or kneeling, you'll be cutting through the water at speeds you didn't think were possible with a board and a paddle. It also gives a great upper-body workout.
Our inflatable paddle boards are high quality.
We also offer the NRS Imperial 6 Inflatable SUP with ultra rock-hard characteristics that rival hard boards. This 6-inch-thick design with more air volume provides optimal performance and stability for paddlers up to 260 pounds.
Personal Flotation Device (Life Jacket)
We provide high-quality PFDs with any boat rental. Our life vests are certified by the US Coast Guard with many adjustment points to ensure it fits your body. You'll be safe and sound if you decide to go for an unplanned swim.
Call 907-733-7238 for pricing.
Call 907-733-7238 for pricing.
Byers Lake Campground
Want to know more?
Byers Lake has a beautiful campground for RVs and tents. Read about it on our blog and find out more at the Alaska Department of Natural Resources website, or call 907-269-8400.