For most people, a trip to Alaska isn't complete without getting a few amazing views of Denali (Mt. McKinley), and with good reason—North America's tallest peak (20,320 feet), commonly called Denali, is beautiful. From afar, it's massive. And up close, the sheer granite walls, alpine glaciers, and pillowing snow cornices are otherworldly.
But getting to see the mountain can be difficult; Denali is so big it makes its own weather, and it's completely shrouded by clouds roughly 1/3 of the time. Still, with clouds, storms, fog, and sunny high-pressure systems all battling it out around Denali, the peak can appear at any moment. And you can even see it from Anchorage, 125 miles away! You might see it from downtown, from just outside Talkeetna, driving the Parks Highway from Anchorage to Fairbanks, or while on a flight seeing trip or Alaska Railroad tour.
There are several excellent opportunities for Denali viewing and photo shoots during a typical Denali Southside Guides kayak tour assuming the weather to cooperates!
Talkeetna Denali Overview and Ski Loop Pull Out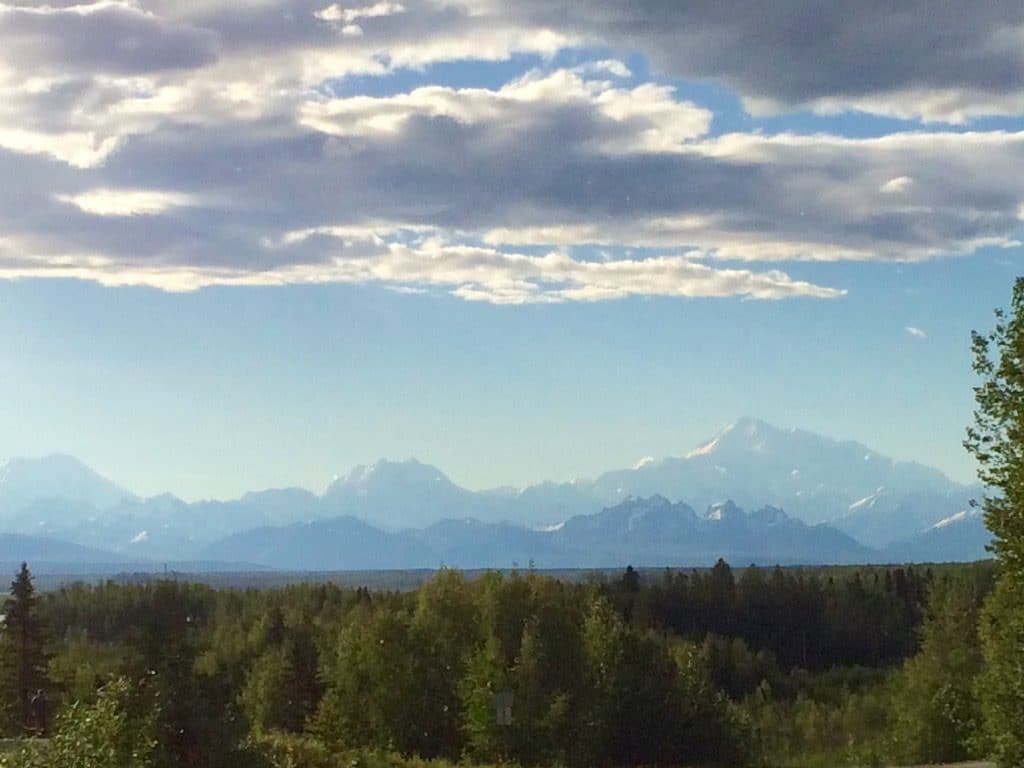 Just 1 mile south of Talkeetna you'll get your first glimpse of Denali (Mt. McKinley). Across from the entrance to the Talkeetna Alaskan Lodge, there's a pull-out on the left with wonderful Denali views with the Susitna River and foothills in the foreground.  The foothills are 3,000–4,000 feet high and behind them looms Denali, five times as high!
A 1.5 mile-long ski loop begins at the pullout that also makes for a nice summertime walk. Halfway through the loop, this trail follows a ridge above the Susitna River with views of Denali and the Alaska Range. You can find the trailhead at the south end of the Mt. McKinley Scenic Overlook parking lot. Walk south about 100 yards uphill and you'll see a trail access sign off to the right. This loop is quite hilly and can be muddy in the Spring or during wet weather.
Talkeetna Alaska Lodge
Built atop a high bluff, the lodge overlooks the Susitna River Valley and surveys the entire Alaska Range, with Denali (Mt. McKinley) right in the middle. Sip a local Alaskan microbrew on a huge deck overlooking rolling green lawns, forest, rivers, tundra, foothills, and Denali rising in the background. The lodge is near the airport, and the planes in the foreground really put the mountain in perspective. A sign tells you which peak is which.
Many of our customers stay at the lodge so their raft or kayak trip begins here.
Byers Lake
Byers Lake is the largest lake in Denali State Park. It is located at Mile 146.5 of the Parks Highway in the heart of Denali State Park and offers incredible lake kayaking. Kayaking or canoeing on Byers Lake is a terrific opportunity to get out of town and break away from the crowds of people and tourist traps and immerse yourself in Alaskan nature.
This lake is closed to boats with gasoline-operated motors and aircraft to ensure the tranquility of the area. Glide through peaceful waters on single or tandem sit-on-top kayaks that can be rented at the lake.
From this vantage point not only do you get breathtaking views of Denali and the Alaska Mountain Range but you'll also have a chance to see resident trumpeter swans, loons, and beavers or paddle over pools of spawning salmon while looking for the bears and eagles that come to feed on them.
Denali Kayak Tour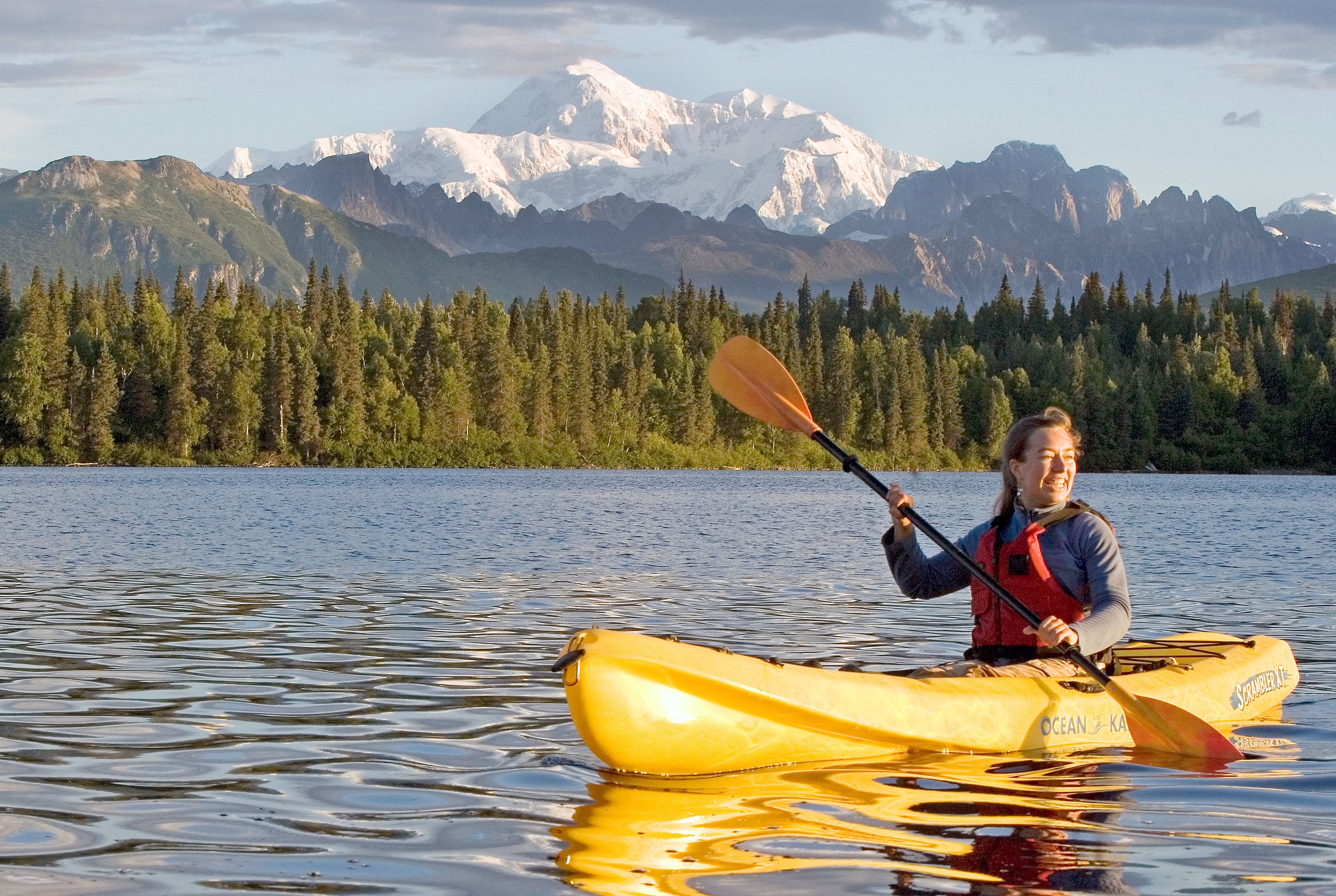 Come see the beauty of Byers Lake with Denali as a backdrop as you glide through tranquil waters on single or tandem sit-on-top kayaks. Tours start with brief and easy paddle instructions then embark for one of the most beautiful experiences in Alaska with spectacular Denali and wildlife vistas.

Watch for resident trumpeter swans, loons and beavers. Paddle over pools of spawning salmon. Look for the bears and eagles that come to feed on them. Take pictures of the breathtaking views of Denali and the Alaska Mountain Range. Don't worry about your gear — we will provide you with rain pants and jackets, boots or crocs, and dry bags for cameras.
Mary Carey's McKinley View Lodge
This lodge is located a short distance from towns and off the beaten path giving you the advantage of Denali viewing with less competition for the best seat while you eat. Mary's McKinley View Lodge is located at 134.5 on the George Parks Highway. This locally owned and operated lodge was homesteaded by author Mary Carey in 1962 and is now run by her daughter Jean Carey. On clear days, a magnificent view of Mt. McKinley can be seen from all motel rooms, the cafe dining area, and the parking lot. With full-service breakfast, lunch, and dinner you can dine with spectacular views of Denali (Mount McKinley) any time of the day.
Exploring Denali State Park, wildlife, and pristine landscape by floating its waterways is an incredible experience. This is your best chance to leave the crowded highways, bus seats, restaurants and noisy motors behind and escape into the natural beauty.
Talkeetna Riverfront Park

At the end of Main Street in Talkeetna you'll find yourself at the confluence of three wild rivers, overlooking the 20,000-foot peak. Just a short walk to downtown, this large, river-centered park offers wide open, untouched spaces, along with great panoramic views of Denali and the Alaska Range.
Here you'll see the mingling of 3 swift glacial rivers: the Talkeetna, Susitna, and Chulitna. If you look closely you can see a slightly different color of water flowing from each of the three rivers that join to form the "Big Susitna River."
Walk along the water's edge, or take a romantic stroll on the gravelly, scenic sand bars. You might see people enjoying a campfire while sitting on huge, fallen cottonwood trees; rafters floating by; or jet boat drivers speeding by in the broad expanse of water.
Kesugi Ridge Trail System

For hikers and backpackers, the Kesugi trail system is famous for fantastic views of Denali and the Alaska Range from the alpine areas of Kesugi Ridge. With over 27 miles to explore the trail system is rated as "moderate" and winds through varied terrain and climbs 6700 feet. Once you get above the tree line the official ridge hike starts. If you're lucky, the weather will cooperate and Denali will be visible. You will walk with your head fixed on the view, gaping in amazement at the panoramic beauty. Denali (McKinley), Hunter, Foraker, Moose's Tooth, several small lakes and the braided Chulitna River are all visible from this ridge.
There are four trail access points on the Alaska Hwy. Mile 137.6 at the Upper Troublesome Creek Trailhead. Mile 147.0 at Byers Lake Campground, Ermine Hill Trailhead at Mile 156.5 and Little Coal Creek Trailhead at Mile 163.9. We offer shuttle services to and from each of these trailheads and the McKinley Princess Lodge in Talkeetna or Byer's Lake.